As you all know i love playsuits i can't get enough of them. I have always bought them from
asos
and didn't think i was going to find many cute printed plus size ones elsewhere but then i spotted this beauty on
Simply Be
and i fell in love. It was £40 at the time and other things always seemed to jump in my basket before this, then a few weeks ago me and the mr went to doncaster to the Simply Be store and there it was in a size 22 at £16!! I tried it on, it fitted and we made our way to the till.
The playsuit is still in stock on simply be and reduced to £16 now too, its
here
if you fancy a bargain. The playsuits on simply be are all gorgeous and i have my eye on a few others I'm so glad they do them as not many plus size stores seem to sell playsuits which is a shame they are the perfect addition to any wardrobe.
I wore the playsuit with black tights and my
lifes big canvas
necklace and glasses chain. It was super comfy and lightweight. The shorts are like culottes so have plenty of room and don't ride up too far when you sit down. The playsuit has buttons all the way down the front so its easy to get on and off, you don't have to do the sideways bend and shuffle that some playsuits require! the buttons are fastened with an elastic loop rather than a traditional button fastening and i really like this. It also has a belt at the back so you can tie it to get a more defined shape.
The mr says i look mischievous here
I really like this playsuit and wearing it makes me want more, here are some of the playsuits on Simply Be that i need in my wardrobe.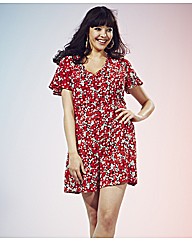 Printed playsuit £40
Aztec print £26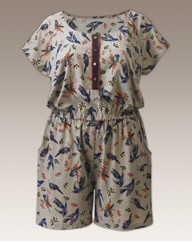 Bird print £35
How do you feel about playsuits are you a lover like me ?