I have had
this
dress since it was released but i haven't shown it you on the blog until now. This dress was designed by the lovely
Lauren from Pocket Rocket
for
Simply Be
. I loved this dress since i saw the first pictures of the design, the cut was me and the print is to die for! I mean who doesn't like ice cream right?!
I got the dress in a 22 which is a good fit for me but i know a few people who got the dress found sizing down was good for them.
I wanted to say sorry for the bags and shoes in the background i have scheduled these posts as i am away at leeds festival and have all my stuff out ready to pack. I know, this pop princess at a festival ,wish me luck lol!
The dress comes to my knees and it is made from a stretch material, for me its a bit too thick to wear when its really warm but i think it will be perfect for the cooler months.
If you want to get your hands on this beauty then you can
here
.
I think the dress is amazing and its so reflective of Lauren as well. I'm so glad i got my hands on one and i know that it will be something that gets worn over and over again.
I haven't belted the dress but if you wanted to you could along with adding some neon accessories like Lauren did.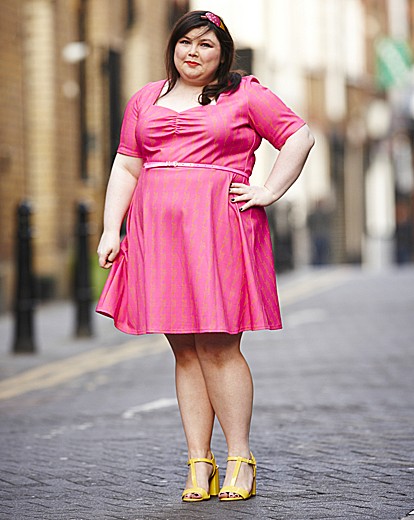 Thank you to Lauren and Simply Be for creating such a fun, vibrant dress.
XOXO